Scroll down to read all 6 new stories
| | |
| --- | --- |
| Press Release | Source: DuSable Museum of African American History |
Noted Sculptor Ed Dwight to Appear at Educator's Open House Scheduled at DuSable Museum on Wednesday, October 3, 2007
Wednesday September 26,
CHICAGO, IL--(MARKET WIRE)--Sep 26, 2007 -- In conjunction with the DuSable Museum of African American History's current attendance record-breaking exhibition, "In The Hands of African American Collectors: The Personal Treasures of Bernard and Shirley Kinsey," the Museum will present an Educator's Open House with very special guest, the noted sculptor Ed Dwight, on Wednesday, October 3, 2007 from 4:00 PM until 6:00 PM. The event will take place at the Museum which is located at 740 East 56th Place (57th Street at South Cottage Grove Avenue) in Chicago's Washington Park.
Self-guided tours of the Museum; a "blues history vignette" by acclaimed bluesman Fernando Jones; information on available Museum resources and a special presentation by sculptor Ed Dwight are all on-tap for this event which is open to all Chicagoland educators, grades pre-school through high school.
A man whose resume reads: former Air Force Test Pilot, America's first African American Astronaut Trainees, computer systems engineer, aviation consultant, restaurateur, real estate developer, and construction entrepreneur can best be described as a true "renaissance man." Ed Dwight has succeeded in all these areas. However, for the last twenty-five years, he has focused his direction on fine art and sculpture projects and since his art career began in 1976, Dwight has become one of the most prolific and insightful sculptors in America.
All teachers and educators who participate in the Educator's Open House will receive: two (2) CPDUs and a 20% discount in the Museum Store. Light refreshments will be served. In addition, the first twenty-five educators to register will receive a complimentary copy of the curriculum guide, "Making Connections."
For more information or to register for The Educators Workshop please call 773-947-0600 ext.225, or 255. The Educators Workshop is FREE to all educators and school personnel.
The Educators Workshop is sponsored by Kraft Foods with additional support provided by the Chicago Park District, Illinois Arts Council, Clear Channel Radio and United Airlines, the official airline of the DuSable Museum.
The DuSable Museum of African American History, one of the oldest institutions of its kind in the country, has been dedicated to the collection, preservation, interpretation and dissemination of the history and culture of Africans and Americans of African descent for 46 years. For more information on the Museum and its programs, please call (773) 947-0600 or you may visit our website at www.dusablemuseum.org.

Contact:
     

Contact:
     

Raymond Ward
     

(773) 947-0600 ext. 228
Story 2. Mountain View Colored Officers Club located at Fort Huachuca, AZ.
Sierra Vista Herald:Sunday, October 8, 2006
Last modified Sunday, September 24, 2006 10:39 PM MDT
Fort Huachuca's Myer Elementary School Principal Connie Johnson talks with Lee N. Coffee Jr., the guest speaker at Saturday's Third Annual Gala Fund-raiser held by the Southwest Association of Buffalo Soliders. Coffee, an author, talked about the history of black patriots from pre-Revolutionary War days to the present at the event to raise funds to save the post's World War II Mountain View Colored Officers Club. (By Bill Hess-Herald/Review)


Pascua Yaqui Tribe gives $50,000 to help save historic building


By Bill Hess

Herald/Review

FORT HUACHUCA — For years members of the Southwest Association of Buffalo Soldiers have been working to save the World War II Mountain View Colored Officers Club on this southeastern Army Post.

Saturday night the group received its first major donation from the Pascua Yaqui Tribe when the tribal chairwoman announced a $50,000 gift.

In February Association President Tom Stoney Sr., made a pitch to the tribe and Wednesday he was called back to answer more questions from the tribal council's 11 members.

Stoney had no idea the tribe would make a decision so fast.

Tribal Chairwoman Herminia Frias made the surprise announcement after Arizona Democratic Gov. Janet Napolitano spoke.

"We are helping preserve history," Frias said of the donation, which will officially be given to the Sierra Vista city government to manage. The formal presentation will be soon.

And, deciding to provide some of the tribe's revenue sharing funds to help save the club was easy, she said.

"He (Stoney) captured the tribal council's heart," Frias said.

When she announced the tribal council's unanimous approval, the nearly 300 people at the Third Annual Gala Fund-raiser to save the World War II Mountain View Colored Officers Club, were on their feet giving the chairwoman and the tribe a standing ovation.

Napolitano, who had spent Saturday traveling around Cochise County as part of her reelection campaign, stayed away from partisan politics during her comments at the gala.

In the audience were Republicans and Democrats who are seeking election. Both parties have been supporting the effort to keep part of the post history involving black soldiers alive.

Saying she was honored to be at the gala — although she had to leave early to attend another event — Napolitano wanted to personally thank the men and women "who serve and train here to serve our country."

Saving the old club is part of the ensuring the history of black soldiers who served during World War II will be recognized, the governor said.

During that war, more than 40,000 soldiers were trained to be part of the Army's two black infantry divisions, the 92nd and the 93rd, both of which saw combat, one in Europe and the other in the Pacific, she said.

Black WACs were also trained at the post, Napolitano added.

Since the days after the Civil War, black soldiers have provided settler protection and that included those assigned to the post, she said.

Ten percent of Arizona's population of 6 million are veterans, with many returning to the state "because it is a great place to live," Napolitano said.

The state owes veterans a debt, she said, and that is being paid off by the construction of another home for veterans in Tucson and the construction of a third state-operated cemetery in northern Arizona. The state and the U.S. government entered into an agreement, which led to federal funds being used to build a veterans' cemetery in Sierra Vista, which will be operated and maintained by the state.

Another thing that is important is the important economic base Fort Huachuca provides, the governor said.

With the support of the local people and others in the state, Arizona was able to come up with a joint vision and advocacy to ensure the state's military installations were not impacted by the last Base Realignment and Closure Commission round, she said.

Fort Huachuca's legacy in the state is one that cannot be allowed to disappear, Napolitano said, as she promised continued support for the post and the Southwest Association of Buffalo Soldiers drive to save the old officers' club.

Looking at Stoney, Napolitano said she expects she will be soon receiving another letter asking for her support.

Stoney silently responded in the affirmative by nodding his head up and down.

The association's president said the Army Corps of Engineers has approved a lease, which the group intends to sign soon, and that work on establishing a foundation to go forward with a major fund-raising effort is in process.

Building 66050, which was the only structure built during the war specifically as a club for black officers, and which has been used for many other functions has been boarded up for years and nearly went down to a wrecking ball in 2002.

Harlan Bradford Sr., chairman of the association's board of directors, said there is too much history to allow the structure to be demolished.

The gala's theme this year was "Open My Doors Once Again," and it will be a multi-million dollar effort.

During World War II, the club was the scene of shows put on by many entertainers — Lena Horne, Duke Ellington, Dinah Shore and Louis Armstrong. The post also was where boxer Joe Louis demonstrated his skills.

Entertainment Saturday night was provided by Joe Anton and his Desert Swing, a musical group that played the sounds of the big band era of World War II.

The Sierra Vista Community Chorus also performed a number of songs made popular by Horne.

One of them — "Stormy Weather," Horne's signature song — was sung by chorus member Phyllis Andrews.

The club needs to be saved as a national treasure, not just one important to the black community, guest speaker and author Lee Coffee Jr., told the audience.

"It's worthy cause,'" said the retired medical first sergeant.

When he first enlisted in the Army, he said he did not know that much about the history of what black soldiers have done for the United States.

But when he was assigned to Fort Sill, Okla., he visited a post museum that was dedicated to the history of America's western movement after the Civil War.

It was in that museum he saw a display of a Buffalo Soldier of the 10th Cavalry, the unit so named after the sacred animal by Native Americans.

After leaving the museum he went to the post library and checked out six books about black soldiers.

When he left the museum, "I stood an inch taller," he said of the budding knowledge of the history of blacks who have served in America's armed forces.

It makes no difference what blacks have been called throughout America's history — colored, Negro, Afro-American, African-American — what is important is how they have responded to the call when the nation was in need, Coffee said.

Throughout the nation's history, and even before the 4th of July in 1776, blacks have been patriotic, he said.

To blacks, "duty, honor and courage" is more than a motto; it is part of their being, as it is for all who serve in the nation's military, Coffee said.

In a speech with some humorous personal asides, he went through the trial and tribulations of those who served in every war the nation has fought.

Most of the time, the blacks were in segregated units and recognition for their valor never came, or when it did, it was decades after their brave acts, he said.

But, still they soldiered on, Coffee added.

"There are some wrongs that were done yesterday that we can't correct today," Coffee said.

What is important is knowing those wrongs will not be repeated, he added

However, perhaps some wrongs will be corrected with the saving of Building 66050, the noted author Buffalo Soldier historian said.

Although the former Mountain View Colored Officers Club is only a shell, a shadow of what it once was, its history is tied to the nation, especially during those early and dark days of World War II, Coffee said.

There is only one black officers club from that period that can live on, the author said.

Many people do not know that the Alamo in San Antonio, Texas, almost was demolished, said Coffee, who calls San Antonio home.

From its beginnings in the early 1700s , it served as a mission, a fort, warehouse and grocery store and it was only through willpower of people with a vision that the important part of Texas history was saved, Coffee said.

The same can be what will happen for Building 66050, he added.

The history of the club is directly tied to Arizona and Dec. 7, 1941, the speaker remarked.

The nation lost a battleship named after the state when the Japanese attacked that fateful Sunday more than 60 years ago.

"The history of the USS Arizona is directly tied to Fort Huachuca and tied to the officers club," Coffee said.

The club's history is part of the fort, and although Sierra Vista didn't exist in those days, it is part of Sierra Vista today, Coffee said.

What needs to be done to save the fort is "to combine jubilation, exhilaration, motivation and determination," he said

Coffee said the question that only each individual can answer when it comes to ensuring the club is saved is: "What can I do?"

herald/Review senior reporter Bill Hess can be reached at 515-4615 or by e-mail at bill.hess@svherald.com.
3. Story Black Creeks, by Cynthia Dagnal Myron
Click here to retun to Top of page.
Cynthia Dagnal Myron's daughter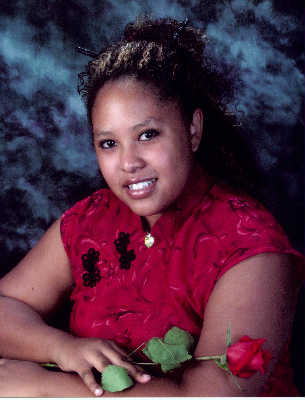 Thandi Myron
Cynthia Dagnal Myron

I can't remember the name of the Buffalo Soldier presenter at Pistor Middle School who asked me to email, but...just for the record, I'm an award winning former reporter for both the Chicago Sun Times and Arizona Daily Star and a screenwriter, now serving as part time story editor for Epiphany Pictures in Los Angeles, which means I choose which movies get read by the producers there. A close friend and mentor is also assisting me in completing a script for production next year.

As for my family history and experiences in Native America, we're Black Creeks on my mother's side, and I married a Hopi artist, and lived on his reservation for 8 years. We have a daughter who combines the two cultures beautifully--here's a picture of her, too. I have gone on the week long Little Big Horn Memorial Ride with the Lakota as well, and know that they harbor real bitterness against the Buffalo Soldiers for their part in several military actions in that area. However, at Ft. Defiance, and on Hopi, Buffalo Soldiers are remembered with deep love--there used to be a museum on the Apache rez that had lots of historical photos, one of which had been blown up to "mural" size, of Buffalo Soldiers with little Apache kids on their laps. But that museum burned down several years ago, taking all that wonderful stuff with it.

Apparently the Black soldiers were sent among these people during a very bad epidemic of some sort that threatened to wipe out Hopi and several neighboring Native villages. Many older Hopis told me, when I first got there, that they remembered being fed by the soldiers because they'd been so close to starving before they got there. And the Navajos, apparently, had been taking this opportunity to raid them and steal their crops--and some of their kids--for a long time. The soldiers protected and nursed them, and they think Black people are kind and also very "smart," they'll tell you. I was met with open arms, but they also called me, "Castila," the Hopi word for "Castillian," or "Black Spaniard." When I asked why, they told me about a Black katsina (the Hopi way of saying and spelling kachina), with woolly hair, who represents Esteban the Moor, the man who was killed by the Zuni's for his arrogance. You know his story. They said they were very relieved to find that the Black soldiers were nothing like him. But the name for Black Spaniard is still what they call you up there. I can't remember the name of the katsina, but I have seen him "dance."

On my Dad's side, we know that our first American ancestor was a white indentured servant who left England in 1698 aboard the ship Barbadoes, looking for a better life. As far as we can tell, there were no slaves there, either. All first born males are named for the Englishman, Samuell, in his honor, as opposed to being forced to do so. From what we can tell, neither side of our family were slaves--my Mom's people did share crop, briefly, but bought their land later, and forever refused to even work for white people, once they'd done that.

One of my teachers, you should also know, was Mamie Till Mobley, the mother of Emmett Till, the Chicago teenager who was lynched for whistling at a white woman. The attached article just appeared in Educational Leadership, a magazine read by millions of administrators, and I was showered with letters about it this week. Mamie went on to write books, plays and to be featured in many documentaries about the Civil Rights Movement. But to me, she'll always be Miz Mobley, my fifth grade inspiration.

There you go!

Cynthia Dagnal Myron
Mamie Till Mobley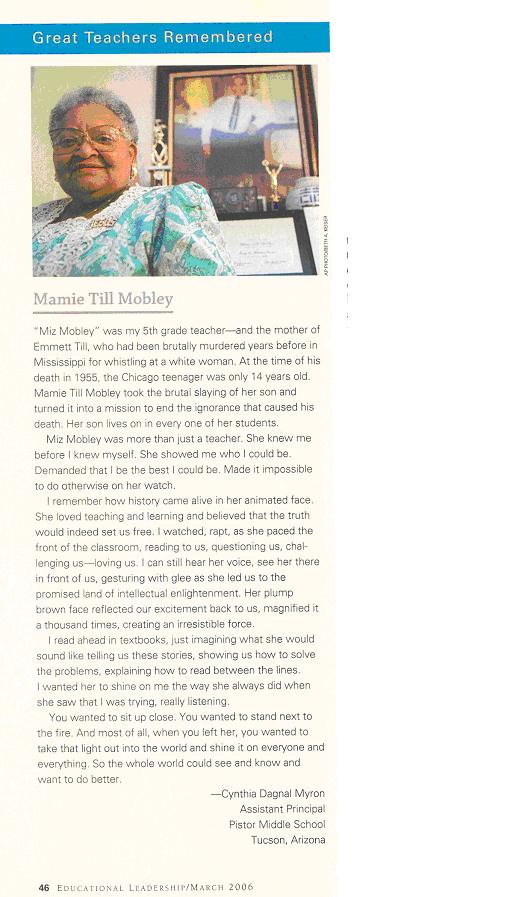 5th Grade Teacher
4. Story
Click here to return to Top of page
Priscilla's Homecoming

An African American woman from

Charleston, South Carolina

, will soon make an historic homecoming visit to the West African nation of

Sierra Leone

.
Mrs. Thomalind Martin Polite and her daughter Fait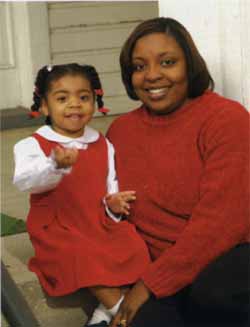 Photo by Rick McKee/charlestonphotographer.com
Mrs. Thomalind Martin Polite, a 31 year old speech therapist, has a unique story to tell. Thomalind is the 7th generation descendant of Priscilla, a 10 year old girl taken on the slave ship
Hare
from
Sierra Leone
to
South Carolina
in 1756. Very few African Americans can trace their family history for 250 years, but even fewer can identify a specific ancestor from Africa and know where in that vast continent he or she came from. Thomalind homecoming is, thus, important for Sierra Leoneans who will be delighted to receive their long-lost kinsman from America
and
for black Americans who will share in her joy at finding her ancestral home in Africa.
Thomalind journey to
Africa
in May, 2005 will be called Priscilla Homecoming in honor of the little girl who survived the Middle Passage" the
Hare
torturous voyage across the Atlantic " then endured another 55 years of slavery in
America
.
5. Story
Click here to return to Top of page
Tuskegee Airmen Lt. Col. Wheeler Reminds Nation at Convocation: "We're Standing on Their Shoulders"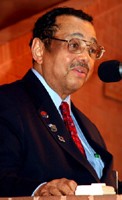 Bill Wheeler
News Release: Feb. 28, 2005
Tuskegee Airmen Lt. Col. Wheeler Reminds Nation at Convocation: "We're Standing on Their Shoulders"

TUSKEGEE UNIVERSITY, AL - (February 28, 2005) ; On Thursday, Feb. 24, Tuskegee University honored America's first Black fighter pilots ; the legendary Tuskegee Airmen ; during its annual Tuskegee Airmen Convocation in the University Chapel.
The event recognized the Tuskegee Airmen's exemplary combat performance during World War II, including the destruction of 260 enemy aircraft, earning more than 850 medals and persuading then-U.S. President Harry S. Truman in 1948 to issue Executive Order 9981, desegregating the U.S. Military. From 1940 to 1946, some 1,000 Black pilots were trained at Tuskegee.
The keynote speaker was one of the original Tuskegee Airmen, retired Lt. Col. William M. Wheeler. The WWII combat fighter pilot served with the 332nd Fighter Group/302nd Fighter Squadron and is credited with destroying three enemy bombers in strafing missions.
Wheeler described a time of segregation in America when African Americans lived in abject poverty, battled discrimination, were considered to have inferior intelligence and weren't trusted with military weaponry. He described days of playing baseball in the streets using cans as balls, of working by the light of kerosene lamps, of living life in ghettos. Still, he said, a number of Blacks fought their way out of poverty into middle class lives, pushing their children toward college educations and daring to see some participate in the Tuskegee Experiment.
The experiment was to test whether Blacks could engage successfully in battle and could command the skies in planes. Those accustomed to bigotry, Wheeler said, expected the experiment to fail. There was something, however, that they didn't count on.
Defacto segregation and institutional racism permeated openly in this country, he explained. There were naysayers in the white power structure, but we were, fortunately, college educated, bright men with such a high esprit de corps that we never lost one of the bombers we escorted in over 200 combat missions, a record still unmatched.
Soon the whites knew if the Tuskegee Airmen escorted them, they had a great chance of making it home, Wheeler said, earning a roaring applause from the Airmen in the audience and the other attendees.
Born in Detroit, Mich., the original Tuskegee Airman was attending Howard University when he volunteered to become an Army Air Corps pilot. Wheeler was inducted into service in 1943. He recalled flight training as an aviation cadet in Tuskegee.
We slept in Tuskegee's dormitories, and attended chapel, and danced with the girls, Wheeler said. I remember the sound of our feet as we marched across campus. It was a wonderful time.
It was Tuskegee that demanded and won the government contract to train the Tuskegee Airmen on its airfield, Moton Airfield. It is the dedication to keeping the spirit of the Tuskegee Airmen alive in the minds of the future Black aviators Tuskegee is beginning to train in its new airway science program and in the hearts of all Americans that Tuskegee began its annual Airmen Convocation five years ago, explained Tuskegee University's President, Dr. Benjamin F. Payton.
That is why it is important that, for as long as we can, we feature as the speaker of each convocation one of the original Airmen, Payton said. This is an opportunity to learn about civil rights in America, about the Tuskegee Airmen, to learn the whole story of Blacks in aviation. At the heart of the civil rights struggle is the only group in this country that had to fight for the opportunity to fight. They fought for victory not only against fascism abroad, but against segregation and racism here at home.
For his bravery and service, Wheeler received several decorations, including the Air Medal; the European/African/Middle Eastern Theater Campaign Medal with Oak Leaf Cluster; American Campaign Medal; National Defense Service Medal; Victory Medal WWII; Victory in Europe Commemorative Medal; WWII Victory Commemorative Medal; and the D-Day Commemorative Medal.
At the Convocation, he added another award to his collection. On the occasion of this fifth annual Tuskegee Airmen Convocation and for your leadership, your unselfish devotion to sharing the story of the Tuskegee Airmen with conviction, it is my pleasure to present to you the Tuskegee University Distinguished Achievement Award, Payton told Wheeler.
It had been more than 60 years since Wheeler had returned to his beloved Tuskegee, a University he described as one that has contributed immensely to world progress. His trip followed his wife's recent death, but he said he brought her with him in his heart. He shed tears but later smiled and raised the Distinguished Achievement Award above his head.
I love this country, he said. It's a country worth fighting for and dying for. I don't know how we lived through the threats, through that time of misunderstanding. But I thank God we did. Out of our struggle came great people who fought for equal rights and equal opportunities. We're not going to forget them. We're all standing on their shoulders.
Following the annual Tuskegee Airmen Convocation, the National Park Service, Tuskegee University and the Tuskegee Airmen Inc. came together for a groundbreaking ceremony, themed Celebrating the Legacy of the Tuskegee Airmen, at the Tuskegee Airmen National Historic Site at historic Moton Field airport where the Airmen trained.
For more information regarding the Airmen Convocation, contact Denise L. Berkhalter of the Tuskegee University Office of Marketing and Communications at 334-724-4553 or 552-1292. For details regarding the Tuskegee Airmen National Historic Site, contact Shirley Baxter of the National Park Service at 334-727-3200.